This is an edublog for all Primary kids who want to learn and practice English and Science.You'll find different links to different web pages and worksheets to practice everything we are learning at school (they are mainly for third and fourth graders). We'll have fun together.
MI WIKI PARA 4º (CEIP SALVADOR DALÍ)
lunes, 26 de octubre de 2015
English 4th - This is Halloween song
This is the song"This is Halloween" from the film The Nightmare Before Christmas. Let's see how many words you understand.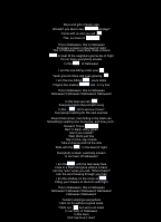 Publicado por

Maribel Moreno
en 22:50